Whether you have a 2 year old child or you are 74 getting started with Better Families Through Tae Kwon Do is easy. Our "New Student Introductory Program" will teach you the basic Martial Arts skills for you to follow classes more easily.
Our program also includes a free Martial Arts Uniform yours to keep. This class is designed for you to experience Better Families Martial Arts training. We can help you achieve your Martial Arts potential.
Take an Introductory Class to learn more about our Better Families programs!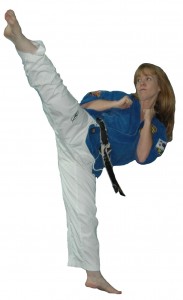 Our Introductory Class is a 30-minute, semi-private lesson with a Black Belt Instructor, where you will be practicing basic kicks and punches while you learn about the philosophy, respect and discipline of the Martial Arts. It is a great opportunity to come in and visit the school, meet the instructors, and find out about the benefits of learning Tae Kwon Do.
You will be learning the fundamental steps in order to follow classes with total confidence. It is a very empowering class, where you also learn how to move with speed and power and basic self-defense.
$29.95 is all you pay for your first class and a free uniform!
Call us at 305-663-1882 to schedule your first class.